Click here to add to your favorites!
---
---
History - Revel de Tetenia, in the Danelaw Documents of London in the year 1154. Sir Richard Revell or Rivell died in 1222, and was the sheriff of Devonshire and Cornwall during the reign of King Richard (the Lionheart) 1st, 1189-1199. Also Revels, Revil, Reavell, etc. Many in Yorkshire from the late 14th century with one example on July 12th 1590, Margaret Revill who married Robert Cawthorne at Rotherham. The coat of arms has the blazon of an ermine shield, charged with a red chevron between three golden mullets, and a border engrailed, sable. The first recorded spelling of Revel is Robert Revel in 1177, in the Pipe Rolls of Essex, during the reign of King Henry IInd, 1154-1189.



(This is the ancestry - Revell line from which Gary Neal Revel came.
Some say John Joseph Revell was from the French Revell line yet others
believe that he was Irish-Scotch (Scotch Irish), English and Dutch
with maybe a little French thrown in.
If anyone has any other information or corrections please
email Gary at gary@garyrevel.com with your take on it all.)
---
John Joseph Revell Line
John Joseph Revell was born abt. 1675. He owned land at Leecock Swamp, Isle of Wight Co in VA.
He married Anne UNKNOWN
Born: 1670
Died: 1720
Wife-Ann

Son: Randal Revell
Born: 1698
Somerset, Maryland, USA
Died: 23 July 1739
Isle of Wight, Virginia, USA

Wife - Katharine Holladay
Born: 1695
Died: 23 July 1739
Virginia, USA

Son: John Joseph Revell
Born: 1722
Isle of Wight, Virginia, USA
Died: 1 Apr 1789
Wayne Co, North Carolina, USA

Wife - Elizabeth Ham
Born: 1725
Wayne Co, , North Carolina, USA
Died: 1784
Dobbs, , North Carolina, USA

Son: Matthew Revel - 1747-1803
Wife/Anna Gatling - 1780-?

Son: John Marion Revel - 1770- 1827
Wife/Mary Harris - 1770-1835

Son: Benjamin Revel - 1808-1884
Wife/Martha A. Revel - 1823-?

Son: Stephen Beauregard Revel - 1862-1934
Wife/Donie Sussanna Moore - 1878 - 1951


Donie Sussanna Moore - Andrew Line

Donie's dad: Samuel W Moore
1836 - 1917
Donie's mom: Mary J Andrew
1844 - 1933

Mary's dad: Henry T Andrew
1818 - 1856
Mary's mom: Sarah Ditto
1825 - 1906

Henry's dad: Richard Andrew
1789 - 1840
Henry's mom: Sarah Ann Turner
1793 - 1852

Richard's dad: James Andrew
1754 - 1819
Richard's mom: Mary Polly Bell
1775 - 1830

James' dad: Richard Andrew
1722 - 1815
James' mom: Sarah
1722 - 1792

Richard's dad: Richard Andrew
1700 - 1776
Richard's mom: Mary Bromwell
1700 - 1744

Richard's dad: John Andrew
1660 - 1695
Richard's mom; Mary Peck
1662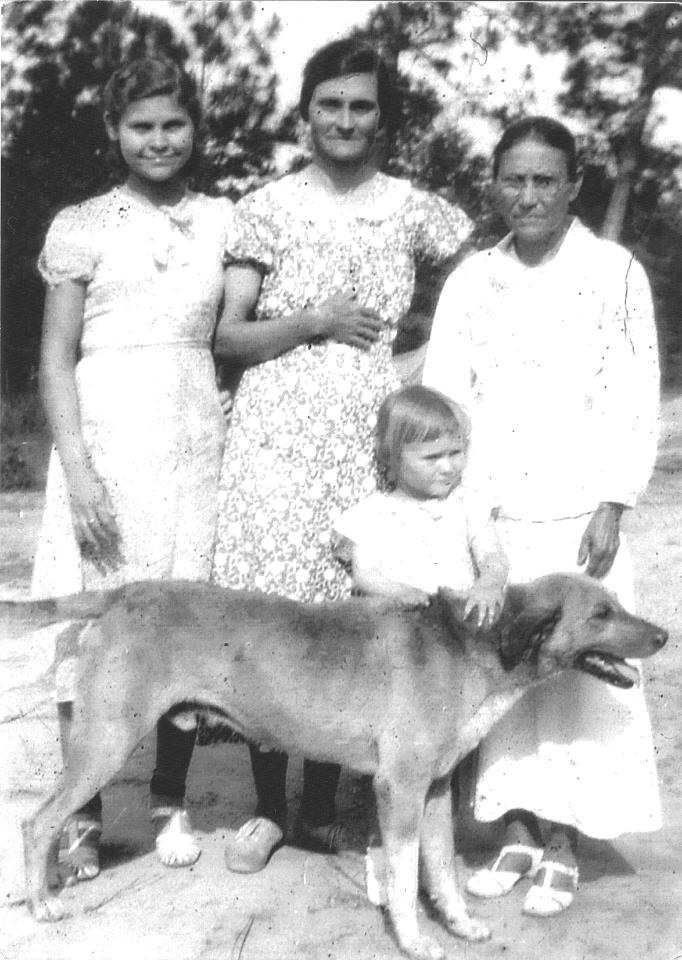 From left, my mother, Martha Marie Mitchell,
her sister, Gussie Mitchell
and her mother, Tama (Caraway-maiden name) Mitchell.
the child below is Doris, Gussie's daughter.
Tama, who was named after her mother,
also Tama (American Indian) named after Taimah,
a Meskwaki chief of the early 19th century.
my great great grandmother, Tama, was also wife of
Chief Poweshiek, head chief of the Foxes-Mekwaski.
The Mekwaski tribe lived in Iowa and other areas of America.
I don't know how Tama became a Caraway,
married CC Mitchell and settled in Alabama.
If anyone knows more I'm anxious to hear from you.